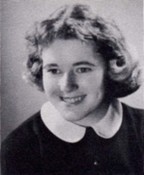 PRINCE FREDERICK, Md. - Myra Wolverton, 67, of Prince Frederick, Md., passed away at her home on Sunday, Feb. 15, 2009.
She was born on Aug. 20, 1941, in Cleveland, Ohio, to Myron and Grace Marion Davis Jordan. Myra was a graduate of Spurr School of Nursing in Glendale, W.Va., and had been employed at Truman Smith Children's Care Center in Gladewater, Texas. Myra loved her dogs, Buffy and DJ, scrap booking, researching her family's genealogy, and traveling.
On Oct. 4, 1958, she married Marvin Wolverton, who preceded her in death on Feb. 1, 2005.
Surviving are her children, Catherine (Greg) Fisher of Prince Frederick, Md., John (Lori) Wolverton of Louisville, Ohio, and Joseph Wolverton of Marshall, Texas. Also surviving are seven grandchildren; two great-grandchildren; and her brother, Jason Richardson.
In addition to her parents and husband, she was preceded in death by her sons, Patrick Wolverton, Robert Wolverton and Scott Wolverton; and brother, Myron Jordan Jr.
A memorial service for Myra and Marvin will be held at 10 a.m. Saturday (March 7) at McClure-Schafer-Lankford Funeral Home. Burial will follow in East Lawn Memorial Park. Friends may call at the funeral home from 2 p.m. on Friday until the time of the service. The family will be present from 6 to 8 on Friday to greet friends.