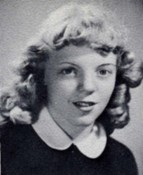 McCONNELSVILLE - Sandra J. Brown, 67, of 5712 Rodeback Lane, McConnelsville, passed away at 7 a.m. Tuesday (April 21, 2009) at her home.
She was born June 30, 1941, in Bartlett, Ohio, and was a homemaker.
Surviving are two daughters, Kimberly Jones of Logan, Brenda Dillon of Columbus; three sons, Jeffery Brown of Cambridge, James Brown of McConnelsville and Michael Brown of Griffin, Ga.; 12 grandchildren; eight great-grandchildren; four sisters, Margaret South of Beverly, Marsha Brown of Zanesville, Janice Cline of Marietta and Mary Patterson of Lowell; and one brother, Robert Webster of Florida.
She was preceded in death by her parents, Fred Webster and Viola Medley Webster; husband, John Walter Brown; and one brother, John Webster.